Journey back in time!
Start your journey through time in Essex Centre at the historic Essex Railway Station. This is not just any train station. It's a train station with an explosive past!
Learn about the natural gas explosion that literally shook people out of bed on Valentine's Day 1980, as well as the boxcar explosion that occurred just feet away from the station on a hot August morning in 1907. The station has been fully restored by Heritage Essex and is home to a variety of railway memorabilia, photographs and historical artifacts.
It's easy to find the Essex Memorial Spitfire as it towers over Heritage Gardens Park just outside the train station. This full scale replica of a World War Two Spitfire MK-IX is just steps away from Royal Canadian Legion Branch 201.
Over a thousand names have been added to the surrounding Honour Wall dedicated to the men and women who served with the Royal Air Force and the Royal Canadian Air Force during World War Two.
Stroll towards Wilson Avenue and stop by the 27-panel mural depicting our railway history. Grab an Essex Mural brochure when you're at the train station and see if you can spot all 13 large scale murals and 8 Bell Box murals.
Head down the Arner Townline until you reach the Canadian Transportation Museum and Heritage Village. Inside, learn about this region's automotive history as you check out some of the rarest and most unique vehicles ever made. Outside, take a walk through Heritage Village which showcases 20 historic buildings dating from 1820 to 1930. If you're peckish, grab a bite at the 50's style diner inside the museum before you continue your "Echoes of the Past" journey south.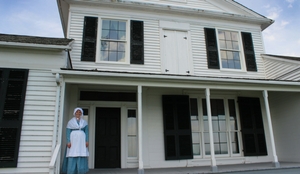 Continue down the Arner Townline to County Road 50 and your final stop at John R. Park Homestead. Built in 1842 on the banks of Lake Erie, the magnificent Classical Revival home of John and Amelia Park has been fully restored. Costumed guides welcome visitors all year round. Taste baking from the kitchen fireplace or play with a wooden toy in the children's bedrooms. Witness the workings of an 1885 steam engine powered sawmill and stop by the blacksmith shop to see what's happening today at the coal-fired forge. End your tour with a scenic walk on the lakeshore boardwalk.
Find out more about heritage properties on the Town of Essex Heritage Tour page.